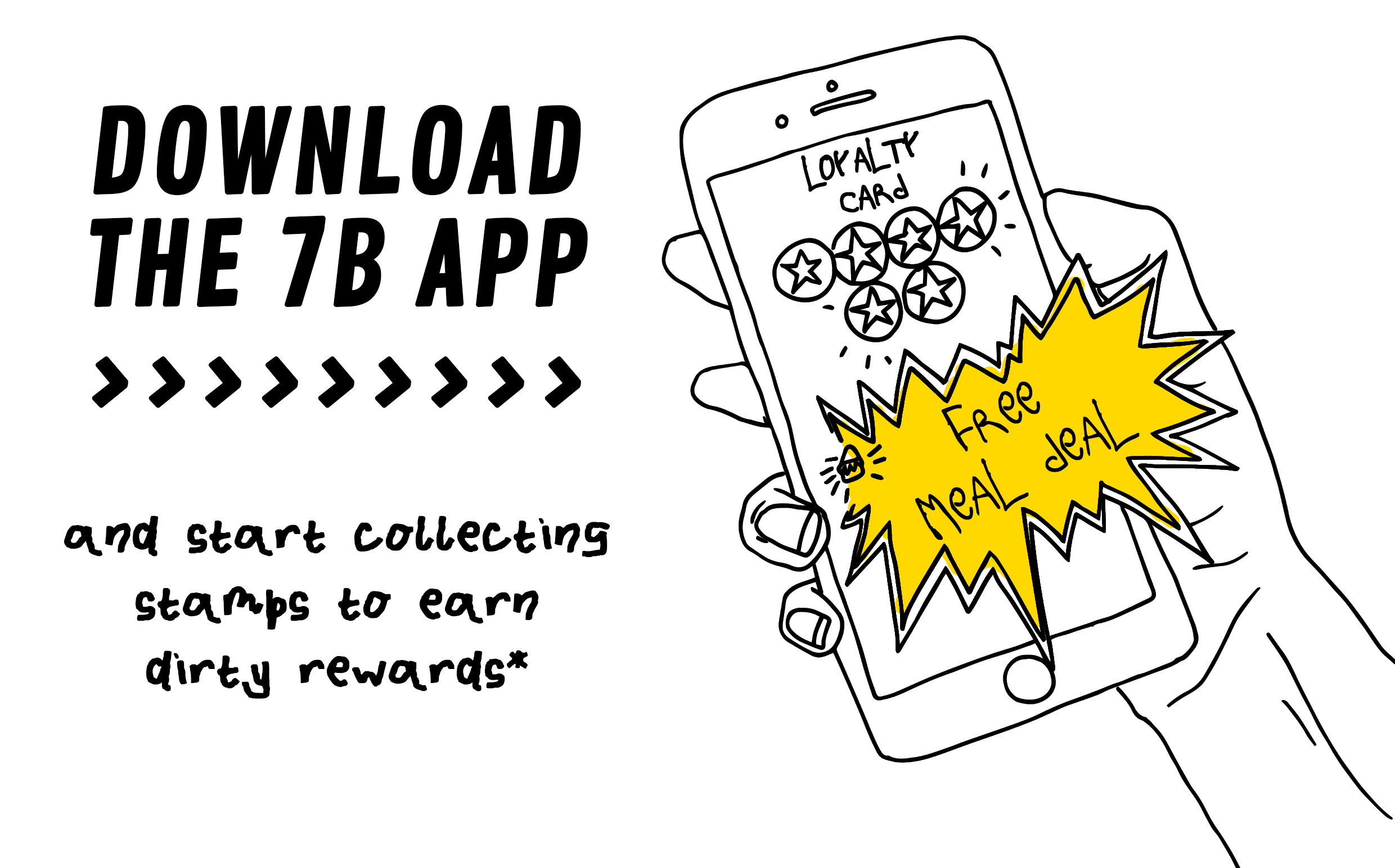 Obtaining your 7Bone Loyalty Virtual Card and Earning Points

1. You can use your 7Bone Loyalty virtual card at any participating 7Bone Burger Co. restaurant to earn loyalty points on qualifying spend and to earn rewards, as further described in these Terms. You can't currently use your 7Bone Loyalty virtual card on home delivery order or at Brittnay food truck.
2. One loyalty point can be earned per customer per day when the qualifying spend in a single transaction for food and drink purchases totals £11.50. To earn a loyalty point, a valid 7Bone virtual card (via 7Bone app) must be presented to a member of the 7Bone team when you pay your bill, or during checkout via 7Bone app. Only the bill payer may collect a loyalty point. Purchases made on non-food or non-drink items (such as gift cards) do not qualify. If you are unsure whether an item qualifies, please speak to a member of staff.
3. You can obtain a 7Bone Loyalty virtual card free of charge via 7Bone app. The 7Bone mobile app is available on Apple App Store and Google Play.
4. To register, earn loyalty points and claim 7Bone rewards you must be aged 16 or over.
Registering to 7Bone Loyalty
5. You can register via the 7Bone app or at menus.preoday.com/7Bone-Burger-Co. To register, you must create an account and provide a valid email address. Only one account can be created per email address.
6. Loyalty points cannot be earned without registering an account via the 7Bone app or at menus.preoday.com/7Bone-Burger-Co
Earning Rewards, Redeeming Rewards and Checking Your Balance
7. A reward is earned when 6 loyalty points are collected and can be claimed on a subsequent visit to a participating 7Bone restaurant. Rewards are valid for one year from when the first stamp has been added.
8. Rewards options are: a free regular or dirty red basket meal deal (excluding all group and site specific specials) with £16 taken off your bill.
9. Rewards may not be redeemed in conjunction with any other offer.
10. You can check your loyalty points balance at menus.preoday.com/7Bone-Burger-Co and on the 7Bone app. We reserve the right to correct or amend the balance in your account if we believe than an invoice or accounting error has occurred.
11. Stored rewards collected on your 7Bone loyalty card cannot be exchanged for cash. Loyalty points cannot be pooled or transferred to any other person. It is not possible to merge 7Bone loyalty points from more than one account onto a single account.
Lost or Stolen 7Bone Loyalty Accounts
12. Bones Restaurant Group Limited is not liable for lost, stolen or damaged loyalty accounts. To report your 7Bone account lost or stolen email [email protected]
Limitations of the Use of your 7Bone Loyalty Card
13. In the unlikely event of an IT and communication systems failure, 7bone may not be able to add points or allow you to redeem a reward during such system failure
14. 7Bone reserves the right to refuse to accept or limit the use of 7Bone loyalty which it deems to have been tampered with, duplicated, damaged or which otherwise is suspected to affected by fraud, misconduct or unauthorised use. 7Bone may withdraw or cancel your loyalty account or take any other action it may deem appropriate if it suspects fraud, misconduct or unauthorised use.
Amendment of these terms and termination
15. Bones Restaurant Group Ltd reserves the right to amend these terms at any time or withdraw 7Bone Loyalty scheme at any point and without notice.
Your Privacy
16. The 7Bone Privacy policy can be found 7bone.co.uk/privacy. You should familiarise yourself with this Privacy Policy and check it regularly so that you are always informed of the latest version.
Cancellation of your 7Bone Loyalty Account
17. You have the right to cancel you 7Bone Loyalty account at any time but you will lose the right to redeem all unused rewards. If you wish to cancel your account please visit menus.preoday.com/7Bone-Burger-Co